Daily Water is the easiest way to make sure you're drinking enough water each day. It keeps you on track without being invasive. It's become a trend in our office! Even my grandma wants one now.
I never realized how dehydrated I was. I feel more awake and drink less coffee. I don't know how I used to work without it.
I really like the fact that it's low tech and looks elegant.
Stylish and Strong
Our jug is designed in Canada to provide a stylish accent to any office, kitchen, or home.

It's made from borosilicate glass, the material of choice for high-end restaurants, laboratories and wineries. This means it won't crack under extreme temperature changes like regular glass. It's happy in the dishwasher.

The protective lid is made from natural cork to give it a smooth, minimalist finish.
Effortless Tracking
With the 9-to-5 jug, tracking your water intake is easy:
1.  Fill up your jug in the morning
2.  Keep the water level at or below the time markings
3.  Feel amazing
Add to cart
Boost Productivity and Happiness
Did you know that 80% of desk workers are chronically dehydrated?
It's a big problem with an easy solution. Drinking enough water is one of the simplest yet most effective ways to:

• Increase Productivity
• Decrease Fatigue
• Improve Concentration
• Assist in Weight Loss
Buy Now
Customize Your Lid (Group Orders)
Promote your brand with a laser engraved cork lid featuring your company's logo. Great for gifts, giveaways, or promotional material.
Minimum order of 5 required.
Learn more about Corporate or Group Orders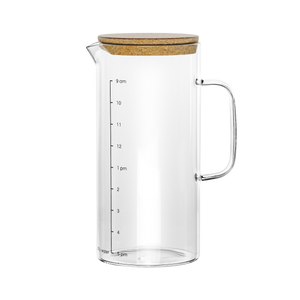 9-to-5 Water Jug
Sale price Price $19.00 Regular price $38.00 Unit price / per